First Thing: Pence would be Trump's 'best witness' in election conspiracy trial, attorney says | US news
Good morning.
Donald Trump's attorney has suggested Mike Pence could help his former boss fight off the 2020 election-related criminal conspiracy charges against Trump, claiming that the former vice-president would be the "best witness" for the defense.
In an interview with CBS's Face the Nation on Sunday, the attorney John Lauro played down differences between the former president and Pence's accounts of what happened in the run-up to the January 6 2021 certification of Joe Biden's victory over Trump, whose supporters attacked the US Capitol that day.
Asked whether he feared that Pence would be called as a prosecution witness in the case, Lauro said: "No, in fact the vice-president will be our best witness. There was a constitutional disagreement between the vice-president [Pence] and President Trump but the bottom line is never, never in our country's history, as those kinds of disagreements have been prosecuted criminally. It's unheard of."
Will Pence testify for the prosecution? Earlier on Sunday, Pence – who is running against Trump for the 2024 Republican presidential nomination – told CBS he had "no plans" to testify for the prosecution. But he did not rule it out. In response to Lauro's assertion last week that all Trump did was ask him to pause the certification, Pence said: "That's not what happened."
US scientists achieve net energy gain for second time in nuclear fusion reaction
American scientists have achieved net energy gain in a nuclear fusion reaction for the second time since a historic breakthrough in December in the quest to find a near-limitless, safe and clean source of energy.
Scientists at the California-based Lawrence Livermore National Laboratory repeated the breakthrough in an experiment in the National Ignition Facility on 30 July that produced a higher energy yield than in December, a Lawrence Livermore spokesperson said. Final results were still being analysed, the spokesperson added.
Nuclear fusion involves smashing together light elements such as hydrogen to form heavier elements, releasing a huge burst of energy in the process. The approach, which gives rise to the heat and light of the sun and other stars, has been hailed as having huge potential as a sustainable, low-carbon energy source.
What happened during the first breakthrough? In December, Lawrence Livermore achieved a net energy gain in a fusion experiment using lasers. That experiment briefly achieved what is known as fusion ignition by generating 3.15 megajoules of energy output after the laser delivered 2.05mj to the target, the Energy Department said. In other words, it produced more energy from fusion than the laser energy used to drive it, the department said.
Zelenskiy praises 'powerful' US and German air defense systems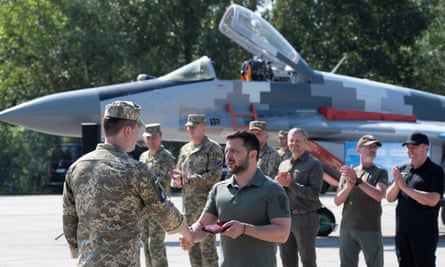 Air defense systems donated to Ukraine by Germany and the US "already yielded significant results" Volodymyr Zelenskiy has said in his latest evening address, shooting down a "significant number" of Russian missiles and drones over the past week.
The Ukrainian president, who spoke hours after Russia launched a multi-wave attack on Ukraine that killed six people, said Moscow had fired 65 missiles and 178 drones at Ukraine in the past seven days.
The US Patriot and German Iris-T systems were "powerful systems, very effective", Zelenskiy said. "Here, in our skies, we can prove that terror is losing … Ukraine can win this battle, and our sky shield will eventually guarantee security for the whole of Europe."
A blood transfusion centre in Kupiansk, a city in Kharkiv, was also destroyed early on Sunday, in what was one of the busiest nights of strikes for weeks. The overnight assault on Ukraine was said to be in retaliation for successful strikes against Russian naval vessels.
What else is happening? The Chonhar Bridge to the occupied Crimean peninsula was damaged by a missile strike, the Moscow-installed governor said. Another of the three road links between Crimea and Russian-occupied parts of mainland Ukraine, near the town of Henichesk, was shelled and a civilian driver wounded, a Moscow-appointed official said.
In other news …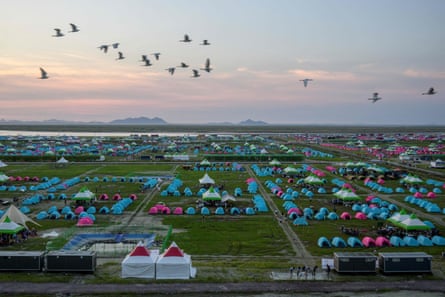 All participants at this year's World Scout Jamboree in South Korea are to leave the event's campsite before the scheduled end date of 12 August due to a typhoon that is expected to make landfall over the Korean peninsula in the coming days.

The US dispatched four navy warships as well as a reconnaissance airplane after multiple Chinese and Russian military vessels carried out a joint naval patrol near Alaska last week. The combined naval patrol appeared to be the largest such flotilla to approach US territory.

Angus Cloud's mother has dismissed speculation that the actor's recent and unexpected death – occurring within a week of his father's funeral – may have intentionally been of his own doing. Lisa Cloud McLaughlin published a statement on Facebook over the weekend that asserted that her son "did not intend to end his life".

China has released a documentary about the army's preparations to attack Taiwan, showcasing soldiers pledging to give up their lives if needed, as Beijing continues to ramp up its rhetoric against the self-ruled island. China claims Taiwan, a self-ruled democracy, as its own territory, to be conquered by force if necessary.
Stat of the day: Barbie movie tops $1bn in global box office ticket sales, breaking record for female directors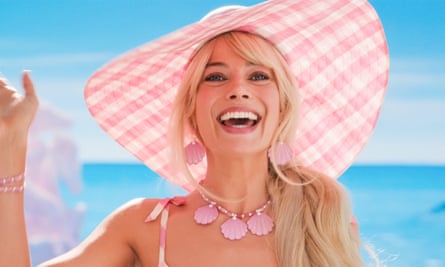 Barbie has broken the $1bn mark since its debut more than two weeks ago, with its director, Greta Gerwig, breaking a record for female directors previously held by the Wonder Woman director, Patty Jenkins. Warner Bros Pictures has announced that the movie took in $459m from North American theatres and $572.1m overseas over the weekend, a total of $1,0315bn. The sum was confirmed by the media analytics firm Comscore.
Jeff Goldstein and Andrew Cripps, who oversee domestic and international distribution for the studio, said: "As distribution chiefs, we're not often rendered speechless by a film's performance, but 'Barbillion' has blown even our most optimistic predictions out of the water." The Margot Robbie-led and produced film has been comfortably seated in first place for three weeks.
Don't miss this: Inside one city's battle over textbooks, teaching and Harvey Milk – 'It can happen anywhere'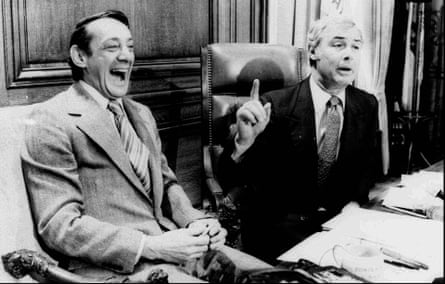 The small southern Californian city of Temecula made headlines across the US when its school board banned critical race theory and attempted to purge elementary school textbooks that reference the gay rights icon Harvey Milk. The vicious fight over curricula in Temecula is one of several playing out in cities across the country, as conservatives seek to reshape how racism, gender and history are taught in American schools. Now, it may also have implications for California. On Wednesday, a group of parents, students, teachers and a union sued the Temecula valley school district, alleging the critical race theory ban violates a Californian law: the right to due process and the right to be free from discrimination. If the court rules in their favor, lawyers on the case say it will set a precedent for the right to fact-based education in Californian public schools.
Climate check: Racism at heart of US failure to tackle deadly heatwaves, expert warns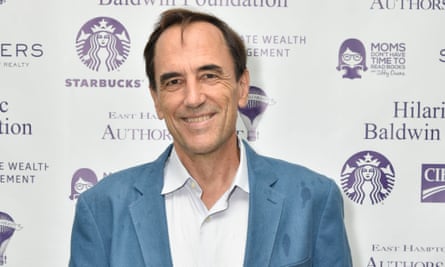 Racism is at the heart of the US government's failure to tackle the growing threat of deadly heatwaves, according to the author of an authoritative book on the heating planet. Jeff Goodell told the Guardian that people of color – including millions of migrant workers who were bearing the brunt of record-breaking temperatures as farmhands, builders and delivery workers – were not guaranteed lifesaving measures such as water and shade breaks because they were considered expendable.
"To be blunt about it, the people most impacted by heat are not the kind of voting demographic that gets any politician nervous … They are not seen as humans who need to be protected. Racism is absolutely central to the government's failure to protect vulnerable people," Goodell says.
Last Thing: Mark Zuckerberg not 'holding breath' for cage fight with Elon Musk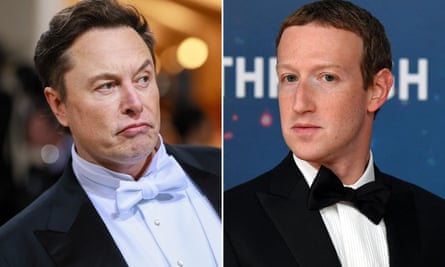 Mark Zuckerberg has said he is "not holding his breath" over a proposed cage fight with Elon Musk, as he revealed that he had suggested a date of 26 August for the contest. Musk had challenged Zuckerberg to a cage fight in June. The Facebook co-founder posted on the Threads app that he was "ready today" for a bout but that he had not received confirmation from the Tesla chief executive and world's richest man. "I'm ready today. I suggested August 26 when he first challenged, but he hasn't confirmed. Not holding my breath," he wrote yesterday. Musk added to the confusion by tweeting on Monday that he "may need surgery before the fight can happen" due to problems with his neck and upper back.
Sign up
First Thing is delivered to thousands of inboxes every weekday. If you're not already signed up, subscribe now.
Get in touch
If you have any questions or comments about any of our newsletters please email [email protected]